To create content that will attract a sector in the Materials Handling industry that you are trying to target, it's important to consider what those people need. What are their "pain points", or consistent concerns/issues/problems that relate to your business; The problems that only you can solve? What expertise could you offer to solve what is missing for people in your target market?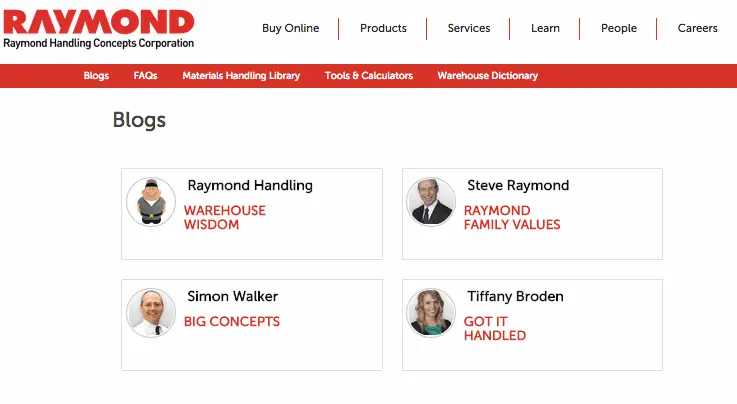 How to write online articles for materials handling:
It's not hard to figure this out. Ask your sales force, the people who are closest to the people you want to sell to. It's likely they know better than anyone what those customers are dealing with on a daily basis. These are the issues you want to help them solve. These are the issues you want to produce content about.
You can also do something as simple as ask them. Use things like surveys with giveaways for their efforts. The more you know, the more understanding you gain about the content you need to create, to help you attract the right demographic
Once you know what content to generate, brainstorm a running list and keep adding to it. By evaluating how effective the articles are, you will be able to continue to tweak your strategy.
Appointing a competent content writer
Producing great content is often a team effort. Unless you happen to be a great visionary, writer, editor and web developer all rolled into one. In all cases, there are two methods of execution:
Option 1: Appoint a qualified and knowledgeable team member with great copywriting skills to write and post the content.
OR
Option 2: Hire a marketing agency or freelance writer to learn your business, work with your internal experts, and generate the content for you.
Option 1 is great if you don't have the funds to spend on hiring someone to produce articles for you. However, it involves an investment in time, sometimes a lot of time. And it's likely that if your staff are great at Materials Handling they may not be great content writers. (Unless, they have a degree in journalism or a particular natural talent for writing.)
The person who you appoint to generate your company's web content needs to be able to write effectively. If you create a bunch of content but it's not well put together, contains spelling errors, or is badly structured, it will damage your brand.
If you decide to go with Option 2 and hire a marketing agency or freelance writer, you are equipping qualified professionals to do the work. It often saves a company more money to hire a qualified team than to train someone and manage the process internally.
If you hire professionals, you won't have to worry about the work getting done properly and promptly. The content creation process takes care of itself.
If you do decide to hire an agency or writer, you need to understand that they charge by the word or by the piece. A professional agency will charge anywhere from .50 cents to $2 per word. This amounts to $250 to $2,000 per article. This depends on that article's length and quality.
It's often worth the expense. A good article can convince hundreds of people that your company is an expert. Think of it this way: If it's read 1000 times in a year and produces 100 queries and 10 sales, it was worth the investment.
To learn more about content marketing and using digital tactics to turn your business into a warm lead generator, order a free copy of the 60-page book: Digital Marketing Secrets for companies in the Materials Handling Industry.  You'll also get a free PDF ebook version. CLICK this button to order your book now: