Working in sales today just isn't what it used to be.  The Internet has knocked the entire sales process on its butt.  Physically knocking on doors, calling businesses, or sending out direct mail advertisements, while still effective, can take a lot of time and cost a lot of money for your business. Nowadays, you can reach thousands of people sitting at your desk typing on your keyboard sing online sales tactics.  And since many business ignore them you are at an advantage if you implement them.
Online sales tactics you should not ignore
Here are 5 online sales tactics that will help you generate leads online. Most businesses don't use them all. Or, know how to use them together.
1) Build a content site.  No really. Not just a goofy brochure that says why you are great. Produce great content on your web site that engages your customers and shows them your expertise and teaches them to trust it. Having a web site for your business is like having a phone line . A great one creates perception they dealing with a good company. It's like have a great knowledgeable receptionist that answers your phone and delights and helps callers. In fact, in some ways have a great web site is more important than a phone line. More people use search engines to seek out businesses they are looking for than they use the Yellow Pages (see image and article that shows Yellow Pages  decline from SearchEnglineLand.com).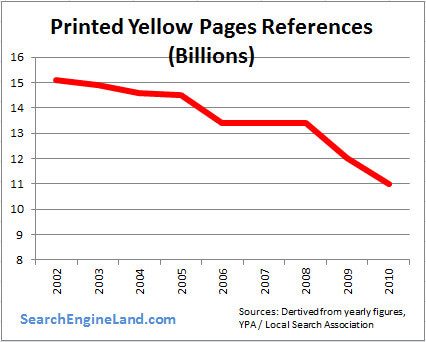 If a consumer does a search and they don't find you, they won't come to you.  Bottom line: Before you do anything, get a great web site and fill it full of helpful content .
2) Produce great content. Publishing articles, blog posts, FAQs and even video  to your web site is crucial for your business.  If you  provide valuable information to your target market you build trust and become a go-to resource for your potential customers. You can use in turn to attract search engine links using Search Engine Optimization techniques (see #3). It can also be used in social media and in your email marketing.
3) Optimize Your Site for Search.  In the business we call this SEO.  Search engine optimization.  What does that mean? It's the work done to your web site to rank it well on search engines.  If you have a web site but you aren't using smart SEO strategies to show up in search engines well, you are killing your potential for attracting new business.   The closer you are to the top of the first page of results page on Google and Bing search engines, the more likely it is someone will seek out your business.  SEO will get you there. It gets overlooked all the time.  Read our article on if you should learn SEO yourself or hire someone to do it for you. SEO is extremely important. And you will be blown away what it will do for your business.
4) Social Media.  You can generate a great volume of leads from social media platforms.  Once again there are specific ways to go about doing this. To be competitive in your marketplace the social media platforms you need to establish for your business are:
Facebook – Get a Facebook page, and/or a Facebook group and start a community around the topic covered by your business. Facebook is the number one platform you should start on.
Twitter -Tweet great helpful content every day – from your site from related sites that help your potential customers
LinkedIn – Build alliances with businesses or find contact information for people you want to work with. Use it to prospect. Share what your business is up to. Share content from your website on your company page.
Google + – It's Google's version of Facebook. It's not mandatory but some people use this over Facebook. Google also references your Google+ page in relation to your web site. It's important for SEO.
Pinterest –  If you have a product or service that you market to women especially, you want to use Pinterest. It's highly visual and the stats say women use it most. It's also a powerful emerging platform that's very appealing. Share great images and content.
Use social media to attract your target market.  You can create business alliances. You can establish expertise for your brand. And you can post valuable information that brings people to you. You can do it all while you sleep! (Tip: Use Hootsuite and schedule posts)
5) Email Marketing.  There aren't many people that know how to properly email market. However, when used correctly, email marketing can turn the traffic that comes to your web site, or through social media, into buyers of your services and products. Done right it's email selling, not email marketing.
Want to learn how to do it all?   Our Digital Fundamentals online course will train you on all five ways to generate leads for your business. CLICK HERE.