What keywords do people type into Google to find your website?
To maximize value from your search engine optimization strategy, you should be identifying the ideal keywords that will attract the traffic you want to your web site.
This can be one of the more challenging aspects of SEO, because if you choose the wrong keyword set, you could find you are wasting your money.
The following best practices for SEO keyword selection will help you win large volumes of web traffic .
1. Use a keyword research tool like WordTracker to identify keywords that have high traffic volumes and low competition
2. Use keyword phrases not words. People don't search for "cars" they search for "Ford Explorer deals in Cincinnati". Put yourself in the searchers shoes. Come up with search phrases you think people will use to find your page, product or service.
3. Choose keyword synonyms. We have a client that rents dumpsters. So we optimize for  dumpster rentals, rent a dumpster, bin rentals, and use works like containers, garbage bins and skips in the keyword phrase combinations.
4. Chasing high value keywords is expensive.There's glory in winning a listing on the first page of Google  for category defining terms, but you'll spend a lot of money getting there. See the Wordtracker research table  for "dog food". Notice that dog food has  similar search volume (A) to "best dry dog food". COMP (B) refers to an index used to measure competition and in the case of "best dry dog food" it is much lower. IAAT (C) refers to number of pages that has the keywords linked on a web site.  Far fewer pages are optimizing  for "best dry dog food". The effort and likelihood of success is better for "best dry dog food". So that's the keyword phrase you should select.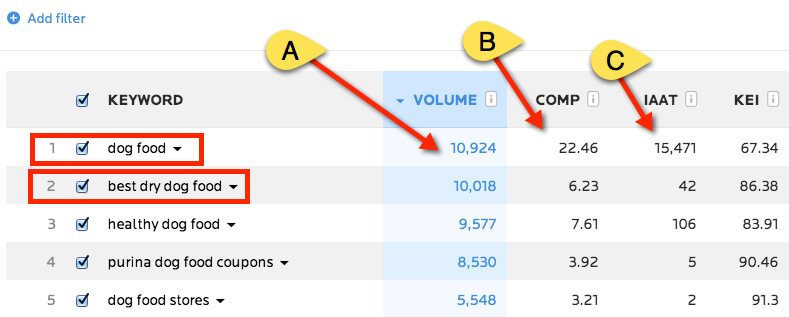 5. Optimize search phrases for geography. People looking for products and service tend to search for keyword phrases that include a location. And Google will rank products and services in a geography higher when they know a searcher is in that geography (they have technologies to determine this). Be sure to SEO around terms. One client we have at CWD specialized in industrial equipment in the Pacific Northwest so we optimize their SEO strategies for  [keyword phrase] Oregon and [keyword phrase] Seattle because local buyers of products and services are looking for local providers.
6. Use plain English keyword phrases: Google is very clever at figuring out keywords on a page  and ignoring words that are irrelevant. Optimizing for "Roof repair Sacramento" can be done with a headline on a post that says "Roof repair for Sacramento homes". Writing English language content that reads well for humans will be rewarded by Google.
7. Think about the longtail. That is a list of keyword phrases that may only produce a handful of visitors each day. But if you capture hundreds and in some cases thousands of these. Your daily traffic will be extremely robust.
8.  Post similar or related content. Posting content with related keywords is going to strength your site's credibility for a particular topic. Google looks at a site content as a whole to evaluate what the site is about. If your site is an expert in a particular topic build content around it.
Using these best practices for SEO keyword selection will ensure that you target the right phrases, optimize your SEO spend and get the result you're seeking.