Email marketing is one of the most effective digital marketing tools that cosmetic surgeons can use to grow their business. According to professionals at a top Ithaca Video Production studio they are also seeing a rise in people wanting videos to include in their emails.
Here's why: In the world of digital marketing, email can be a highly effective tool to build trust. Patients who are looking for a cosmetic surgeon will seek one they can trust. They are putting their looks and well being in the hands of a stranger. So trust is a prerequisite to close a sale. Today this trust relationship starts on the web, because many purchase decisions start with a web search.
Email marketing for cosmetic surgeons – How it works:
Think of it like this: Julia is browsing for a local cosmetic surgeon. She's been fed up with her A-cup breast size for years and is considering breast augmentation surgery. She's thought about it for a long time but she is uncertain about how it's done, who to get to do it, what type of implants to get, and her financing options. She's also a bit embarrassed about the whole process, which is why she's just beginning her search on the web. It's initially anonymous.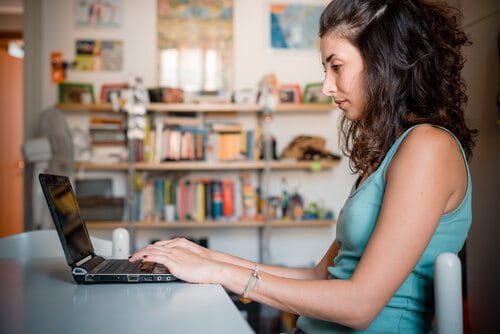 Julie's Google search "Cosmetic surgeons in Tampa" turns up 134,000 results. Your site happens to appear in the top four. Since you're clever, your site differentiates itself because it's loaded with great information about the procedure she wants.
While she's browsing a page trying to decide if silicone or saline is right for her she sees a capture box with a message that says: "Considering breast augmentation? We'll send you a FREE breast augmentation guide with everything you need to know".  She fills in her email, clicks submit and gets a free guide with everything she needs to know.
You're now on her short list and you have an opportunity to build a trusting relationship with her. You've begun to demonstrate your expertise in your field. You also have her contact information. It's the start of a beautiful business relationship.
How cosmetic surgeons can use email marketing to build trust
Here are five key steps you can use to implement an effective email marketing system in your cosmetic surgery practice.
Step 1: Build informative and helpful content that can be placed on your web site. A content centric web site will attract visitors to your web site via search engines. It's important the you post new content regularly. Google rewards sites that refresh their content often.
Step 2: Optimize for search engines. This process is known as search engine optimization (SEO). All the content you generate for your web site should be optimized for search engines. This involves using keyword phrases that are picked up by search engines.
SEO is crucial. It's important that your ideal customers can find you on the web. If you spend money on a web site but don't invest in SEO you could be wasting your money.  It's important to have a strategically designed web site, but if no one can find it, this won't help you attract new business.
Step 3: Implement lead capture forms. A lead capture form is a web widget that allows you to obtain the contact information of people who visit your web site.  There are two components of an effective capture form:
a) A call to action –  A request that entices site visitors to sign up for your mailing list.
b) Contact information fields – These are spaces where the site visitor will enter their contact information. It allows you to record it into your system.
When a site visitor signs up, what you'll immediately know about this person is:
They've been to your site
They are interested in your business.
They are so interested in your business they signed up for your mailing list
They are now a potential lead that could turn into business
This information is GOLD.
Step 4: Purchase an email marketing CRM system. When a contact signs up via a web capture form their contact information needs to get recorded. This is how you learn who is interested in your business. To gather this information your capture form needs to connect to an email marketing system.
There are basic email marketing platforms available. Popular ones are MailChimp, Omnisend or Constant Contact. However, if you are serious about using email to grow your business you'll want to buy a smart CRM such as Infusionsoft or Ontraport.
You can do much more with Infusionsoft than all the other simpler delivery platforms. You can use it to build large networks of automated email funnels. Track hot leads. Find out when a lead is ready to buy. You can also build web forms and landing pages. (If you want a free walk through to understand how it compares and how it works, click here.)
Step 5: Build an email funnel for new captured leads. When a potential lead visits your site, signs up on a capture form and goes into your email system, it's important they receive mail from you immediately.
The whole point of email marketing is to engage with that potential lead on a regular basis.  You'll be using email to build awareness, affinity and trust with your brand.
It's also important to remember that if they just signed up on your mailing list they are interested in you.  And interest dies fast so you need to keep the conversation going in a manner which is enticing, helpful and intriguing.
As a cosmetic surgeon, you could send content such as the following:
Informative articles about specific types of surgical procedures
Articles on payment options
Videos with tutorial about procedures
Client testimonials (this could be in a written or video format. If written include pictures)
Free informational events
Offers for a free consultation
The other thing you need to know, is that it's important you don't just send them mail for the sake of sending it, but it should have purpose. So, you need to plan out a strategy ahead of time.
Here is how a cosmetic surgeon could use email marketing effectively:
1. When a potential lead is browsing a page on your site about breast implants they click a "Click here to find out about the different types of implants" and that puts them on an breast augmentation specific mailing list.
2. Now that you know they want to know about breast implants, you use email to share your expertise with them. Teach them which implants are the best, then send them some videos with before and after testimonials. Keep sending them great stuff every week. This moves the conversation along.
3. Watch your open rates. If the contact is opening your mail and clicking links they are interested in you. So, keep sending them great stuff. You could send them information about payment plans, offers for free consultations etc.
So, why aren't all cosmetic surgeons using email marketing?
Email marketing is a relatively new field and the original rules have recently changed. There are only a handful of email experts that know how to use email effectively to grow businesses. So, not many people have caught on to how to use this incredible digital tool.
At CWD, we've used email before to help businesses in the health and wellness industry increase their annual revenue.  (Visit our case studies page to read how we helped Julie Daniluk and Big Brain Productions)
To get a free site audit or to book a virtual or in-person meeting with Kay Svela, so you can learn how CWD can help you generate more leads for your business, CLICK HERE.