If you're confused about which digital marketing platforms your business should be using to attract potential customers to your site, or you want to know how to turn leads into buyers, this Digital Marketing Lead Conversion infographic could help you:
SEE BELOW FOR AN EXPLANATION OF THE ENTIRE LEAD CONVERSION PROCESS PRESENTED IN THIS INFOGRAPHIC: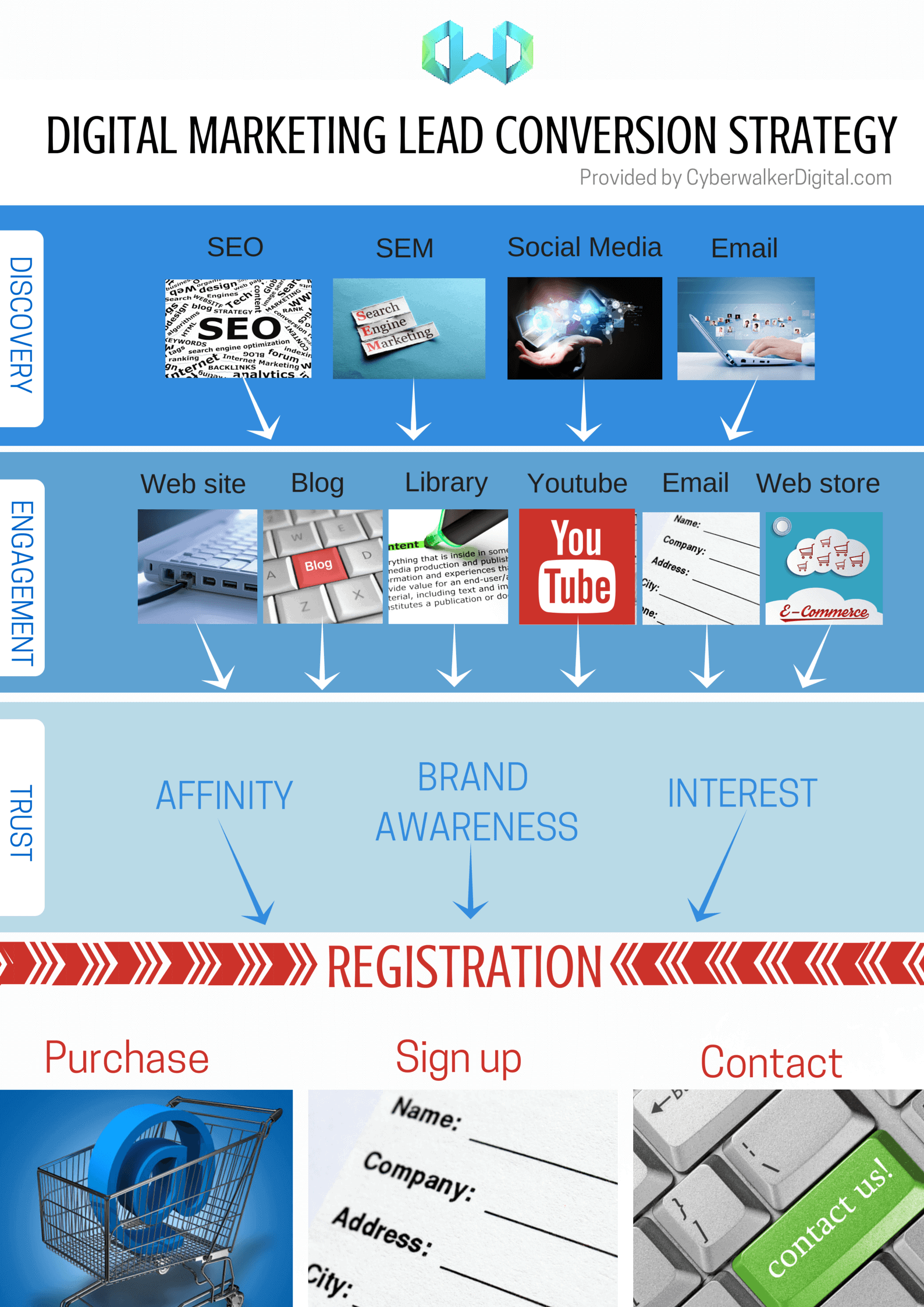 Explaining the digital marketing lead conversion process:
There are 4 Phases that a potential buyer goes through from the moment they find you on the web to the moment they make contact with your business. This is mostly true of all buyers . However, buyers who NEED your services/products NOW can go from Phase 1 to Phase 4, so they are an exception.But – if you want to find your leads in your target market and turn those leads into buyers here are the digital tools to establish and how to use them:
Phase 1: Discovery
There are four digital marketing tactics you should use to have potential customers find you on the web:
Social Media: Post content on social media that grabs the attention of the people in your target market and directs them to your web site, blog or web store.
Search Engine Optimization (SEO): Learn or hire a team to do SEO for you. SEO involves identifying specific keywords and placing them in specific areas on each page of your site. It will help your web site, blog, or web store get picked up by search engines Google and Bing.
 Email Marketing: You can generate leads using email by engaging with customers who recommend you to their friends. Think of this as a word of mouth referral, but on the web.  Tip: Many email software programs have share buttons you can add to the bottom of your email so you can make it easy for people to pass along great content.
SEM: It stands for search engine marketing. It's using web advertisements that are strategically placed to drive traffic to your site.
Phase 2:  Engagement
Once a potential lead finds you, connect with them regularly using various engagement platforms. Generate useful content and share it with your target audience. Build a content library or blog on your web site. Then, write great content regularly and push it through to your audience on email, youtube, or social media.Social media platforms you should have for your business to be competitive in today's online marketplace:
Twitter
Facebook
Linkedin
Google +
Pinterest
Phase 3: Trust
If you engage with your potential leads regularly you'll build a reputation in your target market. It's important that you find out what they want. If you know what they want you can create content that speaks to their needs. The goal here is to build interest, brand awareness and affinity.
Phase 4: Registration
When a potential lead trusts your brand and the time is right for them to buy it's likely they will go to you. A potential lead becomes a lead when they take action by doing things like contacting you, sign up for your mailing list, or making a purchase.This is the registration phase. And it's the whole reason why you would want to use digital marketing tactics. Don't use digital tactics just to use them. Use them with a strategy.
.